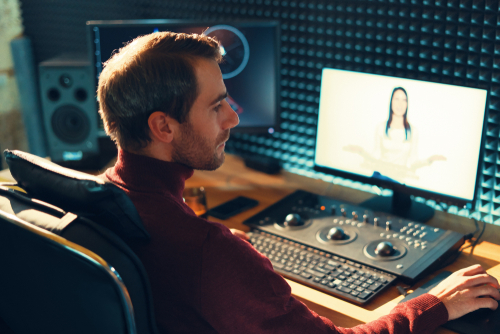 In the visual effects industry, the role of a compositing artist is fascinating. Also known as a compositor, production houses rely on their skills to finalize shots with keen precision. The goal is making spectacular digital imagery that appears lifelike, matching a project's overall style. Among the elements a compositor melds are live footage, stock photos, special effects, and 2D animation. Jobs are abundant in the entertainment and retail sectors. Here are four media in which talented compositors can find their niche.
Film
This medium includes feature films and music videos. A common filming backdrop is a green screen. Studios use this technology when a live location isn't feasible or practical, such as when shooting movies that are fictional, historical, or futuristic.
During film editing, a compositor uses chroma key software to remove the green background, leaving the actors and props in the foreground. Then, the artist substitutes an optimal setting for the green screen, either a static image or filmed footage. For example, if a New York TV studio wants an idyllic Hawaiian beach scene, the compositor replaces the green set with a dreamy beachfront photo, rather than flying the production crew and actors to Hawaii. With z-depth, the artist transforms 2D elements into 3D figures. They can also erase footage flaws, such as glare.
Through 2028, the film industry is poised to grow faster than all other entertainment media. Currently, the Bureau of Labor Statistics reports that multimedia artists earn $72,520 a year, on average. Moreover, in entertainment hubs like New York and Los Angeles, compositors can gross $100,000+ annually.
Television
In this medium, a compositor integrates scenes from separate takes . Set markers indicate camera views, helping the artist match actor movement with prior background footage. Then, compositing software locks on the markers, synchronizing the various elements. This aligning process is called motion tracking.
For each object tracked, the software generates coordinates. Compositors can then use these numbers to add new features to scenes with accuracy. To shoot commercials and TV shows, studios employ green and blue screens. While both colors contrast well with human skin, blue screens are best for low-light takes. Scenes conveniently shot in daylight are easily changed to night using blue screens and color correction. With this technique, a compositor makes objects look natural by tweaking color hue, saturation, highlights, and brightness.
Dust-busting is a method of erasing footage artifacts, such as scratches, dust, and specks. Another trick of the trade is rotoscoping which involves extracting a person or object from one scene for transfer to another .
The first step in rotoscoping is creating a matte, a black and white silhouette of the figure. This requires outlining the subject with a pen tool, showing compositing software what to remove. Once the matte is cut, the artist can add it to a different background. Rotoscoping can also eliminate unwanted props, such as safety wires.
Advertising
This type of photo flaunts the merits of a product, transforming the customer into a hero. Typically, compositors use Adobe Photoshop to craft hero shots, boosting the appeal of retail goods and services. To create a persuasive ad, the compositing artist merges the best features of several exposures or frames. This involves studying multiple variables, such as texture, lighting, color, finish, brightness, and angle. For hero shots, a favorite compositing tool is the layer mask.  By applying a mask, a layer becomes transparent, allowing the stratum beneath to shine forth . Also, the compositor can 'paint in' characteristics, such as shadows. Once hero shots are perfected, advertisers feature them in both print and digital media. Popular types are billboards, posters, magazines, digital displays, webpages, and the sides of buses and delivery trucks.
Video Game Development
A compositor has a substantial impact on game presentation, infusing products with pizzazz. Through the artist's dynamic vision and intuition, special effects become mesmerizing. To refine video games, the compositor unites two types of visual effects or "VFX," as it is known in the industry. Examples of environmental features are flames, flooding, gale-force winds, and explosions. Gameplay elements could be character superpowers, such as bone-crushing strength.
Compositors use a range of 2D techniques to enhance storyboards, particularly motion tracking and rotoscoping. They also influence the game tone and mood. Tone refers to the game atmosphere. Mood is the feeling a story evokes. By deftly linking action-packed scenes, the compositor advances each episode, sustaining player intrigue and excitement.
Regardless of the industry in which a compositor works, they must collaborate with several creative departments. For video game development, the team includes game designers, character modelers, animators, programmers, sound designers, and the project director. Compositors are highly esteemed in this media since game allure hinges on their discerning eye and software mastery.
Controlling Workflow
When starting a project, a compositor can choose either a node-based or layer-based workflow template. With node-based compositing, digital objects and effects are laid out horizontally across a procedural map. Most movies and video games are composited with node-based software, such as Nuke and Shake. Typically, a layer-based flowchart is used for TV shows and commercials. With this layout, images are stacked vertically. The bottom layer is the baseline image. Compositing adjustments yield new layers, progressing upward. The finalized image crowns the stack. Examples of layer-based software are Combustion and After Effects.
Winning Imagery
The VFX production sequence culminates at the desk of a compositing artist. Using specialized software, they render compelling final images which are the result of meticulous layering techniques. Currently, popular media for compositors are film, television, advertising, and video game development. Jobs are also plentiful in graphic design, app development, and web design.
An ideal career pathway is earning a bachelor's degree in VFX production, computer animation, or motion graphics. Another option is completing a one-year diploma or certificate program in VFX. Internships provide essential hands-on experience. On job interviews, a standout portfolio is crucial, including a showreel exemplifying your compositing skills. As your repertoire grows, update your reel, preferably every six months.
Related Resources: