The world craves amazing experiences. From authentic and top-notch dining, to access to the arts, to sporting events, to spa days, millions of skilled hospitality workers help to make their destinations an unforgettable experience for visitors.
While some get into the hospitality business by happenstance, many find hospitality jobs to be rewarding, intriguing, and at times lucrative.
More than many other fields, hospitality rewards workers who are:
Genuine
Warm
Prompt
Inventive
Personable
Skilled
Detail oriented
and Tactful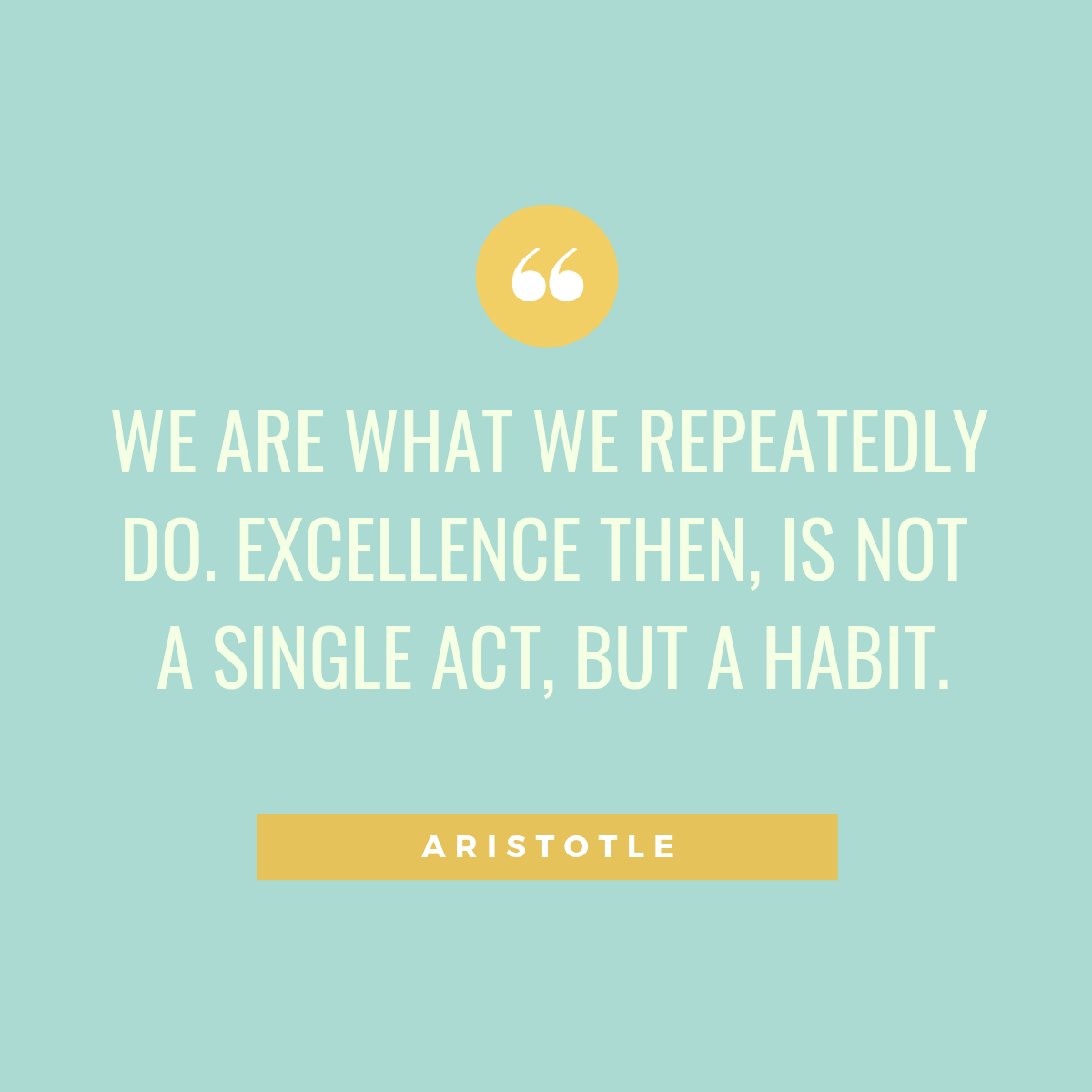 Another aspect of hospitality is that there are roles for many types of workers. Some of the most common jobs in hospitality include:
Food service workers
Chefs
Concierges
Marketing specialists
Event Planners
Sound and light technicians
Trainers
Musicians
Interior Designers
Human resources specialists
Financiers
Landlords
Sourcing Managers
Among many others
Though valued in many cultures, hospitality as a field of study has its roots in the famed Swiss resorts that started in the late 18th century. A popular destination among wealthy travelers, Switzerland offered unparalleled hospitality for the day in the form of hotel amenities, experiences, and access to nature.


Today, Switzerland is still home to many of the best hospitality management schools in the world. Though many can be found in most major tourist destination nations.
Think you might be interested in furthering your education in hospitality? Be sure to check out some of our hospitality degree FAQs below, or continue scrolling down for more of our guide on what you can do with a hospitality degree:
What do you study in hospitality?
Hospitality is a relatively new academic discipline at the university level. Today, hospitality is most commonly called hospitality management studies in degree titles.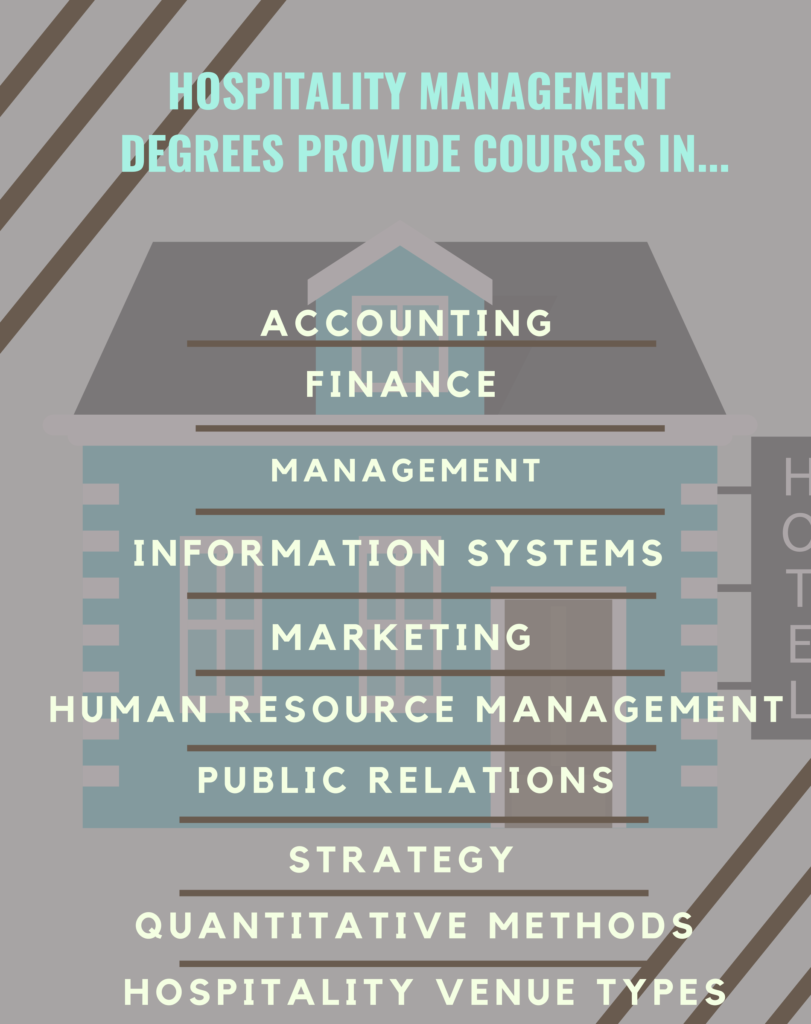 Hospitality management studies is an interdisciplinary field largely focused on business and management curricula tailored to hospitality industries.
Additionally, many programs help students specialize in one aspect of hospitality management. Common specializations or degrees closely related to hospitality management include tourism studies, hotel management, restaurant management, and hotel administration.
Though the following topics will vary based on the individual focus of your degree program, most hospitality management studies degrees include coursework from the following disciplines:
Accounting
Finance
Administration or Management
Information Systems
Marketing
Human Resource Management
Public Relations
Strategy
Quantitative Methods
And Courses Specific to Types of Hospitality Venues
This broad business-based curriculum makes sense when you think about the fact that many of the largest employers in the developed world are hospitality settings including restaurants, cruise ships, hotels, amusement parks, eco-tourism locations, outdoor adventure businesses, convention centers, bars, music venues, and more.
Additionally, many organizations are focused on tourism more generally. Many states, cities, and even neighborhoods have tourism boards that market locations, help to enact policies that push tourism and help to procure investment for venues.
Additionally, some hospitality courses of study are focused more on individual practitioners of hospitality, rather than management. These degrees, diplomas, or certificates may focus more on food preparation, dealing with customers, or specialized skills like those required in casinos, musical venues, or sporting arenas.
What are hospitality degrees?
Hospitality-related degrees, short-courses, certifications, and diplomas are available at nearly every academic level.
Diplomas in hospitality-related skills are commonly available through community colleges or trade schools. These can be great "bang for your buck" educational courses, as community colleges are low cost or even free in many states and metro college districts.
Popular diplomas in hospitality-related skills include:
Diploma in hospitality
Diploma in hospitality management
Diploma in restaurant management
Diploma in restaurant operations
Diploma in food operations
Diploma in catering
Among others
At the associates degree level, a range of degres may be pursued to advance your career in hospitality. While there are commonly associates degrees in hospitality management, any related course of study may be applied to hospitality fields or used to transfer in to a bachelor's-level hospitality management programs.
Associates degrees that are great fits for future (or current) hospitality professionals include:
Hospitality Management
Marketing
Business Administration
Human Resources Management
Accounting
Security Studies
And more
On a full-time student schedule, associates degrees typically require 1.5-2 years to complete. Many associates-degree granting institutions also realize that many of their students are working full-time while pursuing a degree. This has led to the creation of a number of flexible hospitality management programs that meet in the evenings, on the weekend, or online.
Similarly to hospitality management degrees at the associates level, students may elect to pursue bachelor's-level study in hospitality management or a number of related fields. Many successful hospitality managers major in fields other than hospitality management in their undergraduate time and then specialize in hospitality management at the graduate levels.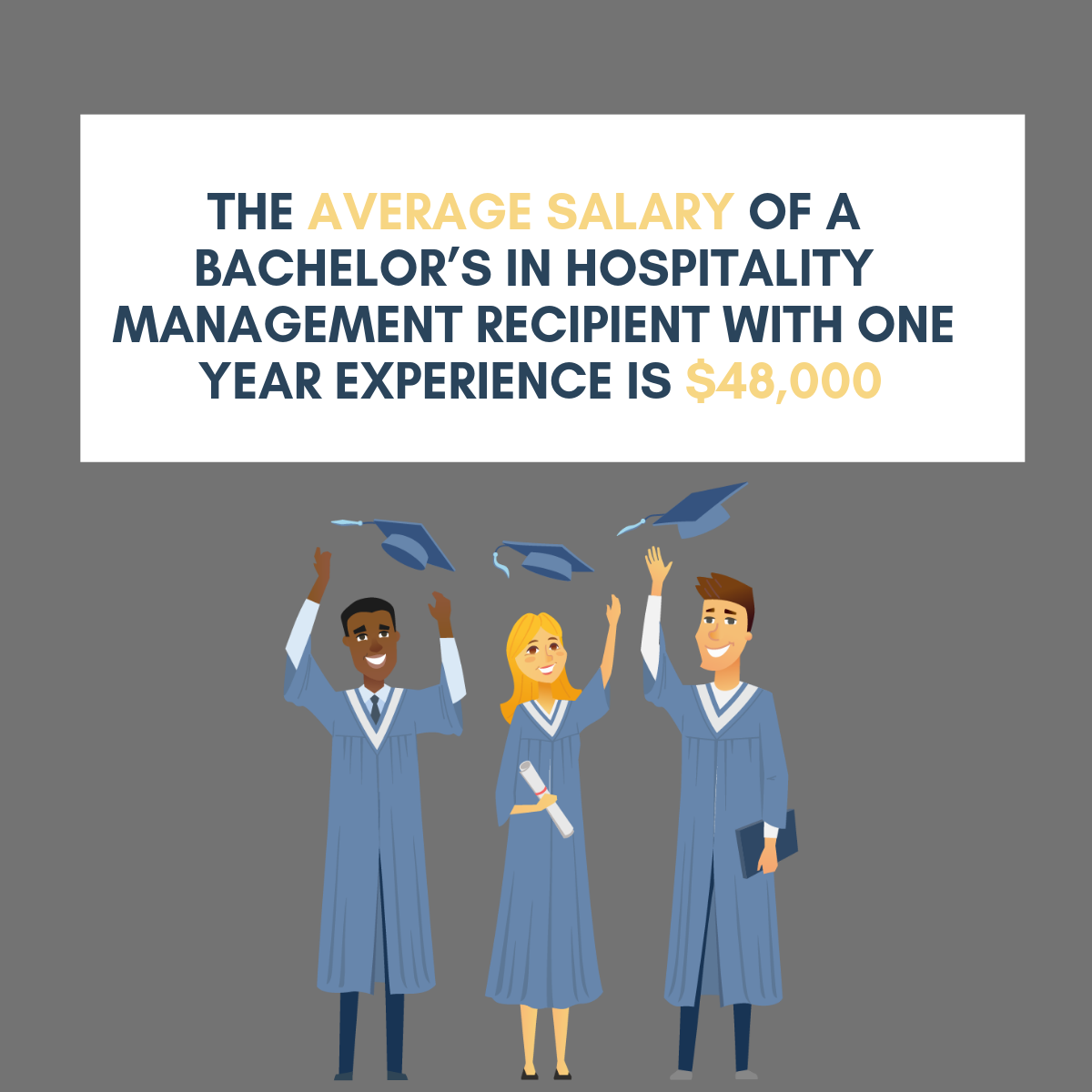 For students electing to pursue a degree in hospitality management at the bachelor's level, coursework often includes the following:
Introduction to Hotel Management
Intro to Restaurant & Institutional Food Service
Intro to Commercial Recreation & Resort Management
Principles of Financial Accounting
Principles of Managerial Accounting
Legal Aspects of Hospitality Management
Hospitality Management Internship
Business Statistics
Conference/Event Planning Management
Business Finance
Foods, Production & Service
Foodservice Systems Management
Intro to Management and Organizational Behavior
Marketing
Hospitality Human Resource Management
Hotel Operations
Bachelor's in hospitality management are very applied degrees. They start with a general core of business courses similar to a finance, accounting, or business major, and then provide a number of hospitality-specific courses. This makes them likely the most "on-point" degree for those looking to work their way up the ladder in hospitality settings. As a rigorous degree, many recipients of hospitality management degrees are rewarded handsomely within their workplace.
Not listed above are general education requirements. Most bachelor's-level degrees require non-major courses in a wide variety of disciplines. Hospitality management is no different. If you pursue a bachelor's degree in hospitality management, be sure to expect to take some courses in the natural sciences, social sciences, math, humanities, and in writing.
With full-time study, bachelor's degrees typically require 4 years to complete if the candidate does not already have an associates degree.
A growing number of universities also realize that many of their students work full time while pursuing a degree. In response, more and more courses of study provide flexibility to balance work, life, and school.
At the master's level there are a number of degree types that can be used to specialize in hospitality management. As hospitality settings are one of the largest employment sectors in the United States, many universities have tailored programs in business administration, marketing, human resources, and accounting to include specializations in hospitality management.


This means that besides master's in hospitality management degrees, students may also pursue a degree primarily in a related discipline that includes a group of specialization courses in hospitality. This is a great option for students seeking a specialized position within a hospitality organization such as being the lead accountant for a hotel, working in finance for an entertainment company, or being a human resources manager for a cruise line.
The most popular master's-level degree related to hospitality is unsurprisingly the Master of Science in Hospitality Management degree. Though this degree varies slightly depending on what nation you pursue it in, common courses that are expected in this degree path include the following:
Hospitality and Tourism Leadership
Travel and Tourism Economics
Business Statistics
Quantitative Analysis
Advanced Accounting and Finance Systems for Hospitality
Advanced Management of Services for Hospitality and Tourism
Advanced Personnel Management Systems in Hotels, Restaurants, and Institutions
Hospitality Business Law and Risk Management
Strategic Revenue Management in the Hospitality Industry
Marketing for Hospitality and Tourism II
Management Challenge Analysis Techniques
Advanced Management Project
Though there are some research-based master's degrees in hospitality management, many are part of longer doctoral programs. Most master's in hospitality management programs are applied professional degrees. This means that instead of original graduate-level research, students are often required to complete a culminating experience or final hands-on project when completing their program.
At the doctoral level, there are two main degree types related to hospitality management. First — and most commonly — Doctor of Philosophy (Ph.D.) in Hospitality Management degrees are more and more common among western universities. Secondly, Doctor of Business Administration (DBA) degrees do at times have hospitality management specializations.
While there may be a great deal of overlap between Ph.d. and DBA programs in hospitality management, one crucial difference is that Ph.D.'s are research degrees, while DBAs are professional degrees.
This means that some of the primary objectives of Ph.D. programs are to (1) prepare students to teach at the university level (if that is their chosen career path), and (2) to help candidates to perform substantial and original research. This research takes the form of a dissertation. While Ph.D. programs in hospitality management require dissertations, DBA programs generally require a capstone experience or other project. Dissertations are comprised of several hundreds of pages of original research that should theoretically be at a level that could be published in a peer-reviewed journal.
Both Ph.D. and DBA programs typically require 3-4 years for completion.
These degrees allow students to specialize more heavily than any prior degrees. Though coursework may vary based on what you specialize on, a sampling of courses you may encounter might include the following:
Branding
Hospitality Real Estate Management
Strategy
Operations Management
Institutional Management
New Product Development
Management Information Systems
Facilities Management
Human Resources Management
Consumer Behavior
Financial Management
Services Marketing
Sales
Are hospitality degrees available online?
As with many other — particularly business-centered — fields, hospitality management degrees are increasingly available online. This holds true for degree programs at the associates through doctoral levels. The largest concentrations of online hospitality management degrees are at the bachelors, masters, and MBA levels.
The presence of online courses can be a "God-send" to busy hospitality workers, helping them juggle a busy work and personal life along with schooling. With that said, online degrees aren't a great fit for every student.
Though one-in-three students in America take some online courses (at least), there are definite pros and cons to attending a program that is entirely online.
Below we'll look at some of these pros and cons. If you would like a more in-depth look at online education, be sure to check out our online degree guide .
Pros of online education
No need to move or take time away from work for your schooling
The ability to complete courses at any time (in asynchronous programs)
Less fees from on-campus amenaties means more affordable cost of attendence
Built for working professionals
You obtain a degree identical to students in a non-online program
Cons of online education
Less opportunity to build relationships with classmates or professors
Less access to on-campus events and services
Can be hard for students without a lot of self-motivation
Doesn't provide as much of the college "experience"
What can I do with a hospitality degree?
As we've already mentioned, hospitality is a very wide field employing individuals as diverse as chefs, marketing professionals, massage therapists, and human resource managers.
Below we'll look at several groupings of hospitality workers to see how hospitality degrees fit into their career prospects.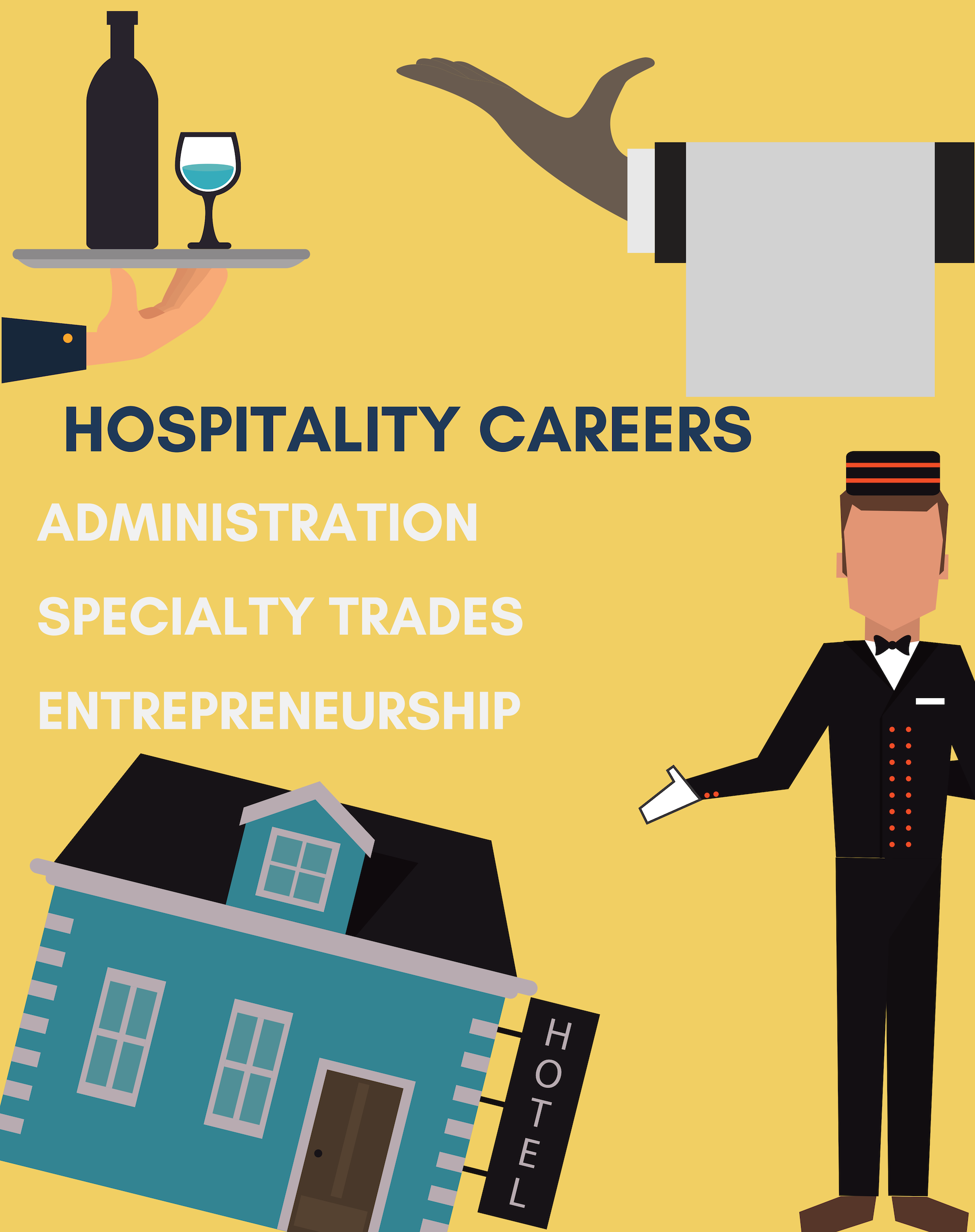 For the purpose of our guide, we'll break hospitality down jobs into administration, specialty trades, and entrepreneurial endeavors within hospitality.
Put most simply, administration roles help to ensure a predictable and high-quality experience through principles of management and business analysis. When you think of a restaurant, you may not think of accounting or human resources, but they are very much a part of what makes a hospitality experience sustainable and profitable.
Many of the most common administration roles mirror common business positions. This is because — at their heart — most hospitality venues are for-profit. This means they're good candidates for human resources managers, financiers, marketing professionals, accountants, logistical managers, and general managers. Each of these roles can be expected either at corporate headquarters or local establishments of a variety of types: resorts, cruise lines, amusement parks, hotels, restaurants, bars, and other forms of venues.
The most common degrees leading to roles in hospitality administration include bachelor's in a business discipline as well as master's or graduate certificates in hospitality management.
Starting from the top human resource managers help with the hiring, onboarding, training, and retaining of key talent. Many hospitality settings have a long roster of help needed to stay running. That means human resources professionals can be particularly crucial for this type of business.


Human resources for hospitality also requires a unique understanding of HR. Seasonal demand fluctuates more in hospitality than in other fields. The range of tasks others in a hospitality organization are completing is also large. Hiring for chefs, massage therapists, servers, cleaning professionals, and marketers is all different. Yet excellent coordination of all steps of employment is necessary for each.
To this aim, master's in hospitality management, as well as hospitality MBAs, spend a significant portion of their course of study on human resources. This can be a lifeline for many professionals that find themselves leading hiring, firing, and the protection of human resources without prior experience. Many hospitality settings may have a head chef, the owner of the business, or a lower level manager perform human resources. And a degree that covers HR in depth can be just the ticket to finding a proper team.
Though HR manager salaries vary a great deal based on the location and employer. The average HR manager salary among top hotel chains commonly range between $55,000-$75,000.
Interested in pursuing a hospitality management degree for human resources? Check out our ranking of the Top 20 Colleges for Hospitality and Hotel Management CCG电子竞技现场直播s today!
Marketing specialists within hospitality have a unique task. A great deal of travel to new destinations involves luxury spending. There's no particular reason why a potential client should choose your venue over another, or even another city. To this end, marketing is crucial — and hyper competitive — in hospitality settings. It's in the name, really. Hospitality settings are expected to excel in being hospitable. And this extends to marketing endeavors.


Marketing can take many forms in hospitality settings. One of the most common as of 2019 is social media marketing (PPC) as well as content marketers. Demand for both of these specialties within hospitality settings is high. For in-house social media manager talent at a large hotel chain, salaries can approach $100,000. For individual locations salaries may differ widely. But suffice it to say, there are many lucrative marketing positions within hospitality.
Accounting specialists play a uniquely important role in hospitality settings. Most hospitality settings are heavy on real estate as well as large investments in equipment for entertaining. Commercial kitchens, sound stages, spas, and even cruise ships all complicate tax implications, budgeting, and reporting on profitability.
To this end, accountants working in hospitality settings often gain graduate certifications, or even master's in hospitality management to tailor their skills to hospitality work. Though rates vary depending on locations and clients, demand for accountants is high across hospitality fields. The average salary for accountants working for major hotel chains is presently close to $80,000, with accounting managers making even more.
Think you might be interested in pursuing a hospitality management degree for marketing? Check out our ranking of the Top 20 Colleges for Hospitality and Hotel Management CCG电子竞技现场直播s today!
Finance professionals are at the heart of most major investments. Hospitality is no different. Yet it takes a specific understanding to be able to value, sell a vision, and keep abreast of hospitality-specific legislation in large hospitality deals. From major hotel chains, to theme parks and cruise lines, financial professionals provide key decision makers with insights as to what is possible, financially sound, and risky.
To prepare or advance for a career in finance within the hospitality industry, many professionals pursue MBAs that focus on hospitality. Additionally, some students may start their studies with a bachelor's in hospitality management and then specialize in finance through a graduate degree.
Though the rates of finance professionals vary greatly by function and location, the average salary of finance professionals working for large hotel chains is presently around $90,000. For professionals working in roles such as private equity or venture capital, this rate can easily be doubled depending on results.
Interested in pursuing a hospitality management degree for finance? Check out our ranking of the Top 20 Colleges for Hospitality and Hotel Management CCG电子竞技现场直播s today!
Among specialty roles within hospitality skill sets and payment vary widely. More than ever, degrees such as an associates or bachelor's in hospitality management can help those with specialty experience within hospitality to improve what they can offer their employer, increase pay, or start their own venture.
Some of the most common specialty roles within hospitality fields are listed, as well as average salaries, below:
Chef: $45,000
Executive Chef: $67,632
Bartender:$22,000 (not including tips)
Front-of-the-house manager: $36,407
Back-of-the-house manager: $34,109
Sound engineers: $56,110
Event planners: $62,528
Hospitality Management Academic CCG电子竞技现场直播 Rankings
For Further Reading: 
Do I Need a CCG电子竞技现场直播 to Be an Interior Decorator?