Some of the most rewarding specialties in the health care industry involve bringing new life into the world and caring for newborn babies. As a nurse, there are different career paths you can take to these roles. Two of the most popular nursing careers that involve working with babies are nurse midwife and neonatal nurse.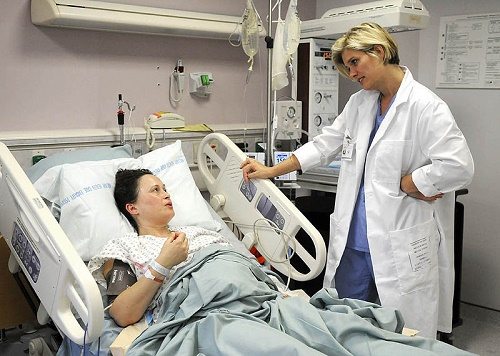 IMAGE SOURCE: Wikimedia Commons , public domain
Becoming a Nurse Midwife
A nurse midwife is a highly educated nurse with special training in women's health. Nurse midwife is one type of advanced practice registered nurse (APRN), a credential that requires an advanced degree and a license beyond that of a registered nurse (RN).
Nurse midwives are known primarily for delivering babies. Much of their job does focus on caring for laboring mothers, managing any complications that arise during or after the delivery and performing any procedures, such as repairing lacerations, that are needed for postpartum recovery. However, nurse midwives also do much more. They may act as the primary care provider for prenatal care throughout a pregnancy. Nurse midwives also work with patients other than pregnant women, performing gynecological exams, wellness care and family planning services, the United States Bureau of Labor Statistics (BLS) reported. In fact, while they work primarily in the area of women's health, nurse midwives may even provide care for men, assisting the male partners of their female patients with reproductive health conditions.
If you're interested in a nursing role that allows you to be the primary care provider for pregnant women and to deliver babies yourself, then you will need to spend a good deal of time preparing. Nurse midwives must first become registered nurses (RNs), which typically requires at least two to four years of study, including clinical experience. After completing your studies, earning your RN license and gaining experience as a nurse, you will need to go back to school to advance your education.
Currently, most APRNs, including nurse midwives, have a Master of Science in Nursing (MSN) degree, according to the BLS. However, there is increasing pressure on APRNs to advance their education even more. Recommendations from the American Association of Colleges of Nursing that APRNs should have a doctoral degree has led many schools to begin phasing out MSN degree programs for Doctor of Nursing Practice (DNP) programs. While a doctoral degree isn't required to be a nurse midwife just yet, advanced practice registered nurses will be "strongly encouraged" to get one in the not-so-distant future, according to U.S. News & World Report .
The educational and training requirements for aspiring nurse midwives may be demanding, but they pave the way for a fulfilling career and six-figure earning potential. Nurse midwives earn a median salary of $100,590 per year, according to the BLS. Job opportunities for nurse midwives are expected to grow by 21 percent over a decade, much faster than the seven percent job growth rate expected for all occupations.
There are currently just 6,500 nurse midwives working in the United States, according to the BLS.
The Work and Education of a Neonatal Nurse
If you're not sure you want to pursue an advanced degree, or if you're more interested in working directly with newborns than in labor and delivery wards, working as a neonatal nurse might be a better fit for you. Neonatal nurses are registered nurses who work in the specialty of providing care to newborn babies.
Taking care of precious newborns may sound like a wonderful job – and it certainly has its rewards – but it is also physically and emotionally demanding. The stress of being a neonatal nurse depends largely upon your job duties and work setting. While some neonatal nurses work in maternity wards and mother-baby nurseries, many work with premature or unwell babies in neonatal intensive care units (NICUs). It can be very difficult emotionally to have to resuscitate a newborn or administer the medications and intensive medical interventions needed to care for sick babies. Additionally, communicating with the parents of these babies – who are often upset or anxious over the health of their newborns – is an important part of a neonatal nurse's job.
To become a neonatal nurse, you need to first become an RN. This requires spending two to three years earning an associate's degree in nursing (ADN) or a Bachelor of Science in Nursing (BSN) degree. In either educational path, you can expect to take courses in the principles and practices of nursing, physiology, anatomy, microbiology, chemistry, psychology and other physical and social sciences, according to the BLS .
Clinical experience in a hospital or other medical setting is an important part of any nursing degree program. Aspiring neonatal nurses should seek out clinical experience opportunities in labor and delivery nursing, well baby nursing, maternal-child nursing and pediatric nursing. Upon finishing your education, you will need to pass the National Council Licensure Examination (NCLEX-RN) and meet all other requirements to attain an RN license in your state. It may also be helpful to earn a professional certification such as the American Association of Critical Care Nursing's critical care neonatal nursing certification (CCRN) or the National Certification Corporation's RNC Certification for Neonatal Intensive Care Nursing (RNC-NIC).
Registered nurses in all specialties earn a median wage of $70,000 per year, according to the BLS. However, due to the high demands of working in the field, neonatal nursing is one of the highest earning nursing specialties . The average annual salary for neonatal nurses is $89,082, but wages can rise as high as $96,187, PayScale reported. For experienced neonatal nurses – especially those who choose to advance their careers with a graduate or doctoral degree – a six-figure salary isn't out of the question.
Neonatal nurses can further their education by completing a Neonatal Nurse Practitioner (NNP) or Neonatal Clinical Nurse Specialist program and attaining an APRN license.
The job duties and educational paths are different for nurse midwives and neonatal nurses, but both careers offer excellent earning potential, job outlooks and job satisfaction.