We shape our buildings, thereafter they shape us – Winston Churchill
Civil engineering is the design, development, and maintenance of infrastructure. In America, we're facing significant infrastructure issues. These issues can be seen in our airports, train systems, bridges, roads, and water systems. From the Rust Belt to major cities like New York and Los Angeles, there are comprehensive infrastructure challenges that must be addressed. We've all heard about Flint, Michigan's water crisis, but throughout the country, there are areas where people can't depend on clean, dependable running water.
This is just one of the challenges facing the modern civil engineer. Fortunately, civil engineers have a long track record of beating seemingly insurmountable odds to create safe and sustainable projects that markedly improve the lives of anyone who utilizes or relies on them.
One great example of a civil engineering success is the Qingdao Haiwan Bridge. Built in 2011 the bridge is 26.4 miles long, making it the longest bridge in the world based on its aggregate length. It took 10,000 workers four years to build and required 450,000 tons of steel along with 3 million cubic yards of concrete. It was designed to withstand earthquakes up to 8.0 on the Richter scale, impacts from 300,000-ton vessels, as well as typhoons.
These massive civil engineering projects aren't new, and in fact, some of the historical accomplishments in the field are extremely impressive, especially when you consider the times and places they happened in. Consider the Panama Canal. In the 1600's Charles V, King of Spain and Holy Roman Emperor wanted a route that ships could take between Peru in Spain. Hundreds of years later his dream became a reality in the form of the Panama Canal, which connects the Atlantic and Pacific oceans through movable locks that lift and lower ships. It saves thousands of miles on each trip between North and South America. In 1914 it opened. Now 15,000 ships use it each year.
Each ship that passes through must be raised and lowered by 85 feet across the canal, and each movable lock door weighs 750 tons and fills with 52 million gallons of water to support the thousands of ships that go through it each year. The project required 60 million pounds of dynamite and 40,000 workers.
These are just a couple of the most important civil engineering projects in human history, but they demonstrate how much can be accomplished with a bold vision and the will to bring it to fruition. Civil engineers handily solve complex problems by coordinating as many skilled professionals they require. If they're successful, their works stand the test of time and markedly improve the lives of incalculable people over the years and decades after they're completed.
Being a civil engineer is extremely rewarding and challenging work. It's not for everyone, but if you have the aptitude and the will to thrive in this field, a top-notch civil engineering education can give you the tools you'll need to have a successful, long-lasting career in the field.
By earning a civil engineering degree you can help build a better, more efficient world and help people live better lives whenever they make use of your works.
In this handy, thorough guide, we'll look into the available civil engineering degrees, including different degree levels and common specializations. We'll also look at all that we've done at CCG电子竞技现场直播 Query to help you find the best civil engineering degree for you. While you peruse this resource, please ask yourself and consider the following (among other factors that might pertain to you):
What are your short and longterm career goals, and how can a degree in civil engineering help you reach them?
You don't need to have an exact plan of how your education and career will go, but starting with a premise about where you'd like to work and what you're good at is a great way to explore your civil engineering degree options.
What degrees do you currently hold? What civil engineering position do you want, and what degree level would you need to reach to qualify for it?
Entry-level civil engineering positions often require at least a Bachelor's degree. Applicants with graduate or doctoral degrees can reach more senior positions and are preferred for competitive civil engineering positions.
How much can you afford to pay in tuition and the other costs that are associated with a specific civil engineering degree, and how much would you have to take out in loans to afford one?
There are many costs associated with civil engineering programs, depending on the school you choose, and the delivery formats they offer. You should also consider what scholarships and loans you could qualify for, among other personal financial considerations.
Whenever possible you should choose schools you can afford to attend. However, that's not an option for many people, so if you need to borrow money take out loans from the government instead of borrowing money from private interests.
Consider schools that are comparably affordable, accredited, and non-profit over more costly for-profit options.
How much time can you commit to a civil engineering degree each day, week, and in total before graduating? Depending on the civil engineering program you choose you can enjoy a variety of delivery formats.
These delivery options include full-time, part-time, online, on-campus, or a hybrid of online and traditional on-campus instruction. What's best for you?
Where do you want to live and use your civil engineering degree? Different states, cities, and industries have different demands for civil engineers.
What is your career and educational background? How can a prospective civil engineering degree program increase your strengths and mitigate your weaknesses?
What are the available specializations in civil engineering degrees you're considering? How can a specialization or focus in the field help you meet and exceed your educational and career goals?
This is just a taste of what you should look at when searching for a civil engineering degree or any other discipline for that matter. While you explore, it's beneficial to write down more questions, parameters, obstacles, and considerations that will inform your search. This way, you can set up criteria to pare down the available civil engineering options. Throughout, keep in mind, what do you want from a civil engineering program?
Now let's look at some of the factors that make civil engineers successful. These may not all apply to you, but that's OK. Probe your aptitudes, and how they play into civil engineering, and think about whether you can make up for the things you struggle with to determine whether civil engineering is right for you.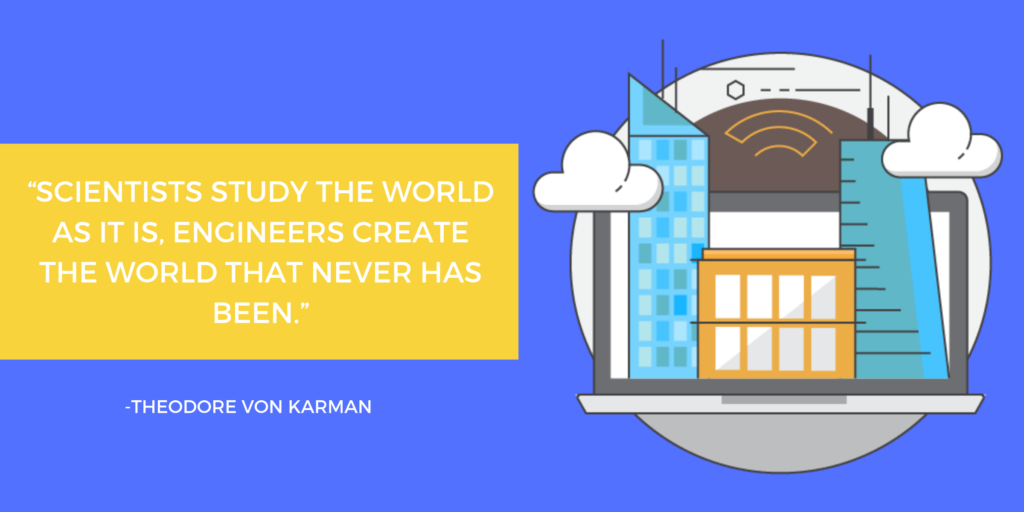 What Makes Successful Civil Engineers?
Many qualities make a great civil engineer, but here are some of them:
Incredible Analysis: Civil engineers are constantly looking to solve problems, and prevent them from occurring. They need to be examining a multitude of factors that go into a project and determining where the courses they and their coworkers have chosen need correction, and where they will be successful.
Management and Organizational Skills: Because of how much a civil engineer must try and control (can they maintain their budgets? Is their building being constructed safely? Etc.) they need excellent planning and delegation skills to keep everything running smoothly on time. Coordinating all of the moving parts of a building project is a lot easier when you're naturally adept at managing many different aspects of a project towards an overall goal.
Communication Skills: Knowing exactly how you want a project to play out won't matter unless you can convey your plans to peers, those working under you, your bosses and the people financing a project.
Flexibility: No matter how hard you plan, large or small scale civil engineering projects will hit snags. Your ability to adapt, and also compromise on your desires is essential to success in the field.
Negotiation Skills: Of course, you don't just want to give in to any demands that workers or bosses are making. However, patience and kindness will go a long way towards achieving your goals and keeping everyone you need to complete a project happy while you do so.
Attention to Detail: This is one of the most important aspects of an engineer's life. No detail is too small, especially when it can rear its head as a major problem down the road.
Let's move on to what we've done at CCG电子竞技现场直播 Query to help you find a civil engineering degree:
How Can We Help You Find the Right Civil Engineering CCG电子竞技现场直播 for You?
At CCG电子竞技现场直播 Query we've worked hard to provide you with resources in your hunt for the right degree for you. We've ranked jobs, schools, and degree options. We've answered common questions about schools, degrees, jobs, and the state of higher education. We've also built tools like our interactive compare careers matrix, which was designed to help you find the best pathway in school for you. Some of what we've done that applies to civil engineering and adjacent fields includes: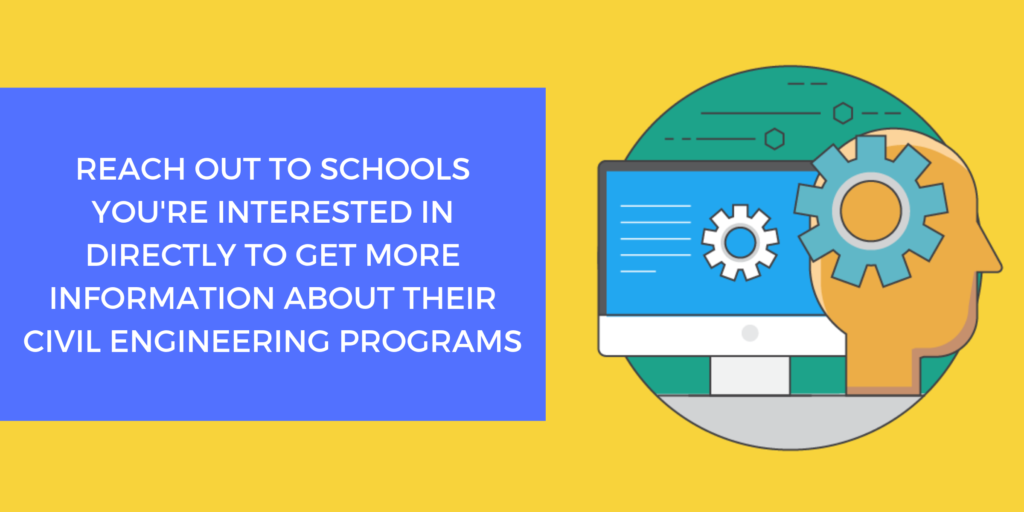 Rankings
Frequently Asked Questions
Now let's explore the different levels of Civil Engineering degrees:
What are the Different Levels of Civil Engineering CCG电子竞技现场直播s?
Associate's in Civil Engineering
These degrees take approximately two years to earn depending on your schedule and availability. In these programs, you'll study the construction of public infrastructures like roads, bridges, tunnels, and systems like water and electricity. Students will likely do lab work in addition to in-class instruction. You'll get acquainted with the latest tools and technologies used for mapping and surveying. These programs can prepare you to work as an assistant technician, inspector, or surveyor, or can assist you in your ongoing education and help you earn a Bachelor's degree in Civil Engineering or a similar discipline. These programs are often offered at community or junior colleges, which can cost less than traditional four-year programs. If you choose to transfer into a four-year program, you'll come equipped with pertinent credits that can make your remaining undergraduate civil engineering studies much more comfortable.
Bachelor's in Civil Engineering
Here you'll study construction, materials, and much more. These programs are similar to their associate counterparts but far more in-depth. Topics covered include structural design, soil composition, waste management, surveying, materials science, hazardous materials, wastewater, among other areas. You'll become exceptionally well-versed in the writing, calculus, computer-aided design, and other math skills needed in civil engineering. Generally, these programs take four years to complete, depending on your delivery format and any credits you've earned previously in the field. Graduates will be prepared to design systems, bridges, roads, public sanitation, dams, and other vital infrastructure. If you succeed in these programs, you'll also be on the way to certification as a civil engineer, and can continue your education at the graduate level.
Master's in Civil Engineering
In these programs you'll go much further into advanced concepts and the practical skills needed to design, implement and maintain infrastructure. These degrees take approximately two years to earn, depending on your needs and schedule. They're incredibly interdisciplinary and demand extensive practical work, often through an internship. These programs offer feature specializations students can choose to refine their education to a particular area of civil engineering (more on this later). You'll need to hold a Bachelor's degree to be considered for one of these programs, and many schools require that degree to be in engineering. In these degrees, you'll study engineering decision-making, support systems, physical hydrology, linear programming, pipe systems, environmental monitoring, statistics, and much more. Graduates will be prepared to work as supervisors, team leaders, and in other administrative positions within civil engineering.
Doctorates in Civil Engineering
These are incredibly challenging, demanding degrees that require four to five years for completion. In them, you'll gain an excellent understanding of materials, structural engineering, mechanics, physics, data analysis, and much more. These programs also allow students to select a particular aspect of civil engineering to focus on. These might include earthquake engineering, transportation, geoenvironmental engineering, water resources, computational engineering mechanics, structural engineering, and much more. Students can expect to do advanced coursework for approximately half to heir time in these programs, and then will spend the second half researching, creating, writing, and eventually defending a thesis. There are opportunities to have tuition covered through fellowships and teaching/research posts as part of being accepted into these programs. Graduates will be prepared to teach advanced civil engineering courses, do vital research in the field, and work at the highest levels at a number of agencies, companies, and other organizations that employ civil engineers.
Now that we've discussed the available degree levels in civil engineering let's look into degree and career specializations in the field:
What are Your Civil Engineering Specialization Options?
Civil engineering encompasses so many different areas of infrastructure design, creation, and development. Here are some of the specific areas you could find yourself in, either through studying in a focused program or within the field itself:
Construction Management
If you think you're a great leader and love to see projects from their infancy through completion, this could be an excellent choice for you. These civil engineers help create building projects, from their initial designs until they're completely done. They work with all of the different groups that help build, including plumbers, financiers, architects, electricians, construction workers, and anyone else involved in bringing a construction project from a dream into reality. They need to be up to date on the latest building codes (at the federal, state, and local levels). They're also in charge of making a project safe, which is extremely difficult while working on a deadline.
Environmental Engineer
This option is excellent for people who want to create a better world through civil engineering. Here you'll learn to develop projects that improve environments or sustain them. You'll study the use of alternative energies like water, wind and solar, building materials that can reduce energy expenditure, and make many other design choices that lend themselves to sustainability. For example, you might build a project with windows and panels that maximize lighting and draw solar power while cutting down on energy expenditures.
Geotechnical Engineering
In this specialization you'll focus on the soil and rock that form the bedrock for a project. Depending on where you're constructing you'll need to mitigate the softness or toughness of the land you're building on. Your work can prevent erosion, and make sure a project lasts longer than it would have without your efforts. Projects spring from the ground up, and people who understand that ground are invaluable to building successes.
Structural Engineering
This is related to geotechnical engineering, but a bit broader. Structural engineers make sure buildings, and other physical structures can support their weight, and the weight of those who go inside them. They calculate potential loads and what designs can handle in a variety of ways. They're essential to the skeleton of buildings, and the materials used to build them.
Transportation Engineering
These civil engineers work on the infrastructure that gets people where they need to be. Their work can include subways, roads, bridges, rails, and anything else necessary for the transportation of people and goods. The significant factors they consider are the capacity to carry people while making sure they're safe. Our society depends on reliable, convenient, safe, and sustainable travel, and will continue to in the foreseeable future. If you were obsessed with trains as a kid, this might be the right fit for you.
Water Resources Engineering
We depend on safe water to live. But even as our societies and infrastructures have developed exponentially, there are constant obstacles to people receiving clean, consistent water. Water resources engineers build and maintain the infrastructure that delivers people the water they need to live.
As you can see, these are all fundamental aspects of civil engineering that will always have high needs for competent professionals.
Now that we've explored the degree and career options in civil engineering we're almost through our guide. Before we go though, let's look at what you can expect to earn as a civil engineer to support yourself and your family:
Civil Engineering CCG电子竞技现场直播s in Conclusion
Let's take a quick look at what civil engineers are likely to earn in the field:
In 2018 the U.S. Bureau of Labor Statistics found civil engineers made a median pay of $86,640 a year, or $41.65 per hour.
BLS wrote that in 2016 there were 303,500 of these positions, which they predicted would grow by 11% between 2016-26, translating to 32,200 new jobs.
They also found that in May 2018 the lowest 10% of civil engineers earned less than $54,780, while they top 10% earned over $142,560. Areas associated with higher pay included government positions and engineering services positions.
We hope you've found this guide illuminating and extremely useful. If you find a school through our content that feels like a good fit, it's useful to email their support staff directly to request more information about it.
Good luck!